I'm participating again this month in the Crazy Cooking Challenge!  This month's challenge was to find the ultimate mashed potato recipe.  I'm really excited to see what everyone has come up with since mashed potatoes are such a staple item in many households.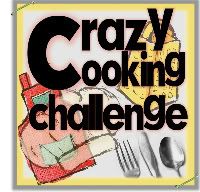 I was excited to find this recipe from Baked Bree, a blog with drool-inducing recipes and photos that I read fairly regularly.  As soon as I stumbled upon this one, I knew that it would be the winner.  While it may seem like an unusual mix of flavors, they complemented each other perfectly.  I loved the slight sweetness of the roasted apples and honey, and the sharp bite of the blue cheese.  I served it alongside porkchops, and it was a wonderful, hearty meal.
So don't be afraid to try something different next time mashed potatoes end up on your menu.  You won't be disappointed.  And make sure to check out the other entries at the end of this post for even more mashed potato goodness!
Blue Cheese and Roasted Apple Mashed Potatoes – slightly adapted from Baked Bree
3 Lbs. Yukon Gold Potatoes, peeled and quartered
3 Golden Delicious Apples, peeled, cored and quartered
Generous drizzle of Olive Oil
2 Tbsp. Butter
2/3 Cup Milk
1 8 oz. Package Cream Cheese
5 oz. Blue Cheese
3-4 Tbsp. Honey
1 Tbsp. Fresh Chives, chopped, plus more for garnish
Salt and Pepper, to taste
Preheat oven to 350.
Place the chopped apples in a piece of foil.  Drizzle with olive oil and season with salt and pepper.  Wrap the foil around the apples, creating a packet.  Place on a baking sheet and bake for 20-25 minutes, until apples are soft.  When apples are done baking, leave the oven on.
While the apples are baking, boil the potatoes in a large pot of water.  Cook until a fork inserted into a potato comes out easily.  Drain the potatoes and transfer to a large bowl.  Add the apples to the bowl.
Add the butter and milk and mash well until the butter has melted.  Doing this step first will help to prevent your potatoes from becoming gummy.
Add the cream cheese, blue cheese (reserving a small handful for topping) and honey and mash until combined.  Stir in the chives.
Transfer potatoes to an oven safe dish.  Sprinkle with reserved blue cheese.  Bake until the potatoes get bubbly and the the top becomes golden brown.  Remove from oven and sprinkle with additional chives before serving.
Related posts: