This month's Crazy Cooking Challenge challenged us to find the ultimate fudge recipe, and seeing as I'm not the world's biggest chocolate fan (I know, what is wrong with me?!), I was definitely challenged.  It's not that I dislike chocolate, it's just not my most favorite thing in the world.  I'll eat chocolate when it is in things, but not so much on it's own.  I like chocolate chip cookies and chocolate chunk ice cream and candy bars (ok, brownies too), but you'll never find me eating chocolate cake or chocolate frosting or chocolate milkshakes.  It's just not my thing.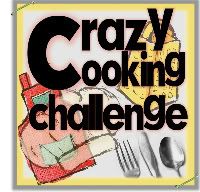 I do, however, love the combination of salty and sweet, and this pretzel fudge definitely fit the bill.  The crunchiness of the pretzels was a welcome addition, feasting my tastebuds with their greatness and breaking up the pure chocolate flavor.  They were incredibly simple to make (melt, stir, pour, chill), and super tasty to boot.  They'd be a great, easy addition to your holiday swaps!
Pretzel Fudge – slightly adapted from Everyday Sisters
1 14 oz. Can Sweetened Condensed Milk
3 Cups Semisweet Chocolate Chips
2 Tbsp. Salted Butter
1 tsp. Vanilla
2 Cups Pretzels, broken into pieces
Handful of Whole Pretzel Twists
1/4 tsp. Sea Salt
Lightly grease a 9×13 baking dish and line with parchment paper, leaving enough extra at the ends to cover the finished fudge and allow you to lift the fudge from the pan when chilled.
Add the condensed milk, chocolate chips, butter and vanilla to a microwave safe bowl.  Heat in 30 second increments, stirring each time, until melted – about 2 minutes.  Stir in pretzels.
Pour chocolate pretzel mixture into the prepared pan.  Spread gently then press whole pretzels onto the top.  Sprinkle sea salt over the top.  Cover with the ends of the parchment and chill until firm.
Using the ends of the parchment, gently lift the fudge out of the pan and, using a serrated knife, cut into small squares.
Be sure to check out everyone else's entries below, and if you're so inclined, vote for my Pretzel Fudge as the ultimate fudge recipe!
Related posts: