The new year brought sore throats and stuffy noses to the TJOC household, and as everyone knows, a steaming hot bowl of soup is the best medicine around.  Luckily, this month's Crazy Cooking Challenge was to find the ultimate chicken noodle soup, and I already had a recipe all ready and waiting to be made.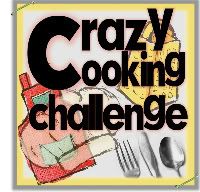 This Chicken Gnocchi Soup is courtesy of my friend Sarah of A Taste of Home Cooking.  If you're not familiar with her blog (you should be, she makes awesome food), you may know her as the mastermind behind the Recipe Swaps that I participate in.  So when Sarah said that this soup was damn good, I trusted her judgment and she didn't let me down.
I did make some adjustments to the soup in an effort to try to lighten it a bit.  I only used 1 cup of half and half and subbed the other cup with some 0% Greek yogurt.    I also upped the amount of garlic and veggies and reduced the amount of butter used.  Even with all of these changes, it didn't sacrifice any of the flavor or creaminess.
And while we sickies have since recovered (due much in part to the soup and a day curled up watching movies on the couch, I'm sure), I'm so glad that I still have a big container of soup waiting in the fridge for me for lunch this week (and a couple of servings in the freezer for when we inevitably are under the weather again).
Chicken Gnocchi Soup – slightly adapted from A Taste of Home Cooking
1 Lb. Mini Gnocchi (or Gnocchi, cut in half, or 1 Cup Short Cut Pasta)
2 Tbsp. Butter
1 Tbsp. Olive Oil
2 Large Shallots, finely diced
4 Ribs Celery, finely diced
4 Carrots, peeled and finely diced or shredded
3 Garlic Cloves, minced
3 Tbsp. Flour
1 Cup Half and Half
1 Cup 2% Greek Yogurt
2 Cups Skim Milk
2 Chicken Breasts, cooked and diced
14 oz. Chicken Broth
2 Cups Fresh Spinach, coarsely chopped
1 tsp. Fresh Thyme, chopped
1 Tbsp. Fresh Parsley, finely chopped
Freshly Grated Parmesan Cheese
Drop gnocchi into a pot of boiling water.  Cook until gnocchi begin to float, about 2 minutes.  Drain and set aside.
In a large saucepan or dutch oven, melt the butter over medium heat.  Add the shallots, celery, carrots and garlic and saute until the shallots become translucent and the vegetables begin to soften, about 5-8 minutes.  Add the flour, stir and cook for one minute.  Add the half and half, yogurt and milk.  Bring to a simmer, then add the chicken.
Once the mixture has thickened, add the chicken broth and return to a simmer.  It will thicken again, then stir in the cooked gnocchi, spinach, thyme and parsley and simmer until the soup is heated throughout.
Top with freshly grated parmesan cheese before serving.
Be sure to check out the other Chicken Noodle Soup entries below!